Luxurious spring weekend retreat in Oxfordshire, UK
26 - 28 April 2019
Cost from £375
Holiday Expired
About Poundon House
The Queen Anne style country house is stunning and spacious; set within six acres of landscaped gardens on the edge of the Oxfordshire-Buckinghamshire border. Poundon House offers a luxury escape in the peace and tranquility of the countryside, with the bonus of being within easy reach of London, Oxford, Milton Keynes, Birmingham, the Cotswolds and Bristol with fantastic transport links to the all of these places.
Once you arrive at Poundon House, you will feel immediately at home. Whether it is settling down in front of a roaring open fire, taking a long bath in one of the unique bathrooms or going for a quiet walk in the apple orchard, for over a century Poundon has been the perfect place to escape the bustle of city life.
The daily programme
The first class will be on Friday evening, followed by a delicious dinner. Dory will then lead you through two classes on the Saturday, a strong morning class to align to body and breath including mantra, yoga philosphy and pranayama and an afternoon Yin practice.  Each morning will start with meditation or a guided walk. On Sunday there will be a long morning practice before breakfast and a short class before lunch and the end of the retreat.
Each day after morning yoga and a healthy breakfast, there will be the opportunity to walk, have a massage or relax in one of the comfy lounges by a roaring fire, or take a long bath. This is a very special place indeed!
Arrival time on the Friday is from 4pm onwards. The first yoga session will be at 5pm. The weekend will finish on the Sunday after lunch at 1pm.
Things to do
The surrounding countryside offers an abundance of walks and the grounds a space to sit in nature and read a book or simply be. There will be massages on offer in the free time, or curl up on one of the big sofas to read or enjoy an afternoon nap.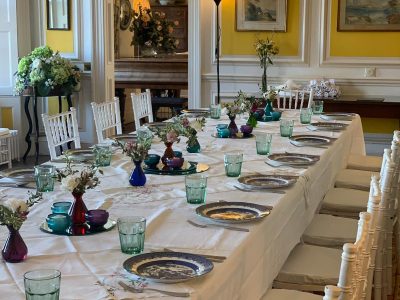 Accommodation & food
The luxurious rooms are spacious, light and offer an extremely comfortable heaven to relax and rest in. The fireside sofas are deep and comfy the views an expanse of nature and space.
Delicious organic food will be served throughout the retreat. All meals are vegetarian - delights to nourish body and soul.
Client Reviews
This was truly the best yoga retreat I have EVER been on. All in all simply couldn't have been a more amazing week.

Tanya
I am still feeling the positive effects from my break. The location was beautiful, the food fantastic, the people lovely and Dory, by far, is the best teacher I have had in 18 years.
We all had a fab time on our weekend at Poundon House. Our only complaint was that we wished it was longer! Food was totally fabulous and Dory is a great teacher. The house is amazing. Such a privilege to stay in a place like that. Looking forward to the next one and I recommend YOAS frequently to my friends.

Jenny
Just to send heartfelt gratitude once again for the wonderful retreat at the weekend. Dory, you are so inspiring and words just can't do justice to the impact the whole weekend, with you at its helm, has had on me. I feel like I'm back on track now and have been reminded of, and grounded in, who I am and the direction I want my life to take. Poundon house was a lovely setting. Elspeth's food was delicious and made with such love. The highlight for me though was the yoga and also opening the door a little to practice beyond the asanas. I really enjoyed the pranayama, meditation and chanting. I also loved learning more about the theological background of yoga.

Annabelle
It was a really wonderful and truly nourishing weekend. Thank you so much. I love Poundon House. It's such a treat to be able to stay there and to have Elspeth cater for us. And I really enjoyed the Yoga and everything Dory brings to it. I like your analogy of having diamonds in your pockets that you want to share. I'm a very happy and eager recipient!

Pat
Thank you so much for a wonderful yoga weekend! Dory's yoga teaching was everything I could have hoped for - beautifully balanced practices with new awareness for me to take home, all taught with kindness and fun! I really respected your knowledge and practice as well as your good-vibe teaching.

Lissa
Luxurious spring weekend retreat in Oxfordshire,
UK,
26 - 28 April 2019
Costs
Triple room sharing: £375 per person
Twin or double room sharing: £420 per person
Single occupancy room: £555
The cost includes your accommodation, daily meditation, all yoga classes and workshops. Delicious homemade organic vegetarian food. Massage treatments are available at an additional cost.
All rooms are spacious, stunning and unique.
Towels are included.
Travel Arrangements
Times: Friday 29 March 4pm - Sunday 31 March 2pm
Train:
Nearest train station is Bicester North
Taxis:
Taxi numbers for station transport:
Union Cars 01869 248248
Scenic Route 01296 738026
Apollo Cars 01869 323236
Driving:
Poundon House, Poundon, Nr Bicester, Oxon, OX2 79B