Luxurious early spring weekend retreat in Oxfordshire, UK
15 - 17 March 2019
Cost from £375
Holiday Expired
About Poundon House
The Queen Anne style country house is stunning and spacious; set within six acres of landscaped gardens on the edge of the Oxfordshire-Buckinghamshire border. Poundon House offers a luxury escape in the peace and tranquility of the countryside, with the bonus of being within easy reach of London, Oxford, Milton Keynes, Birmingham, the Cotswolds and Bristol with fantastic transport links to the all of these places.
Once you arrive at Poundon House, you will feel immediately at home. Whether it is settling down in front of a roaring open fire, taking a long bath in one of the unique bathrooms or going for a quiet walk in the apple orchard, for over a century Poundon has been the perfect place to escape the bustle of city life.
The daily programme
The first class will be on Friday evening, followed by a delicious dinner. Jaya will then lead you through two classes on the Saturday, a long morning class to align to body and breath and an afternoon practice to delve deeper into the postures.  Each morning will start with meditation. On Sunday there will be a long morning practice before breakfast and a short class before lunch and the end of the retreat.
Each day after morning yoga and a healthy breakfast, there will be the opportunity to walk, have a massage or relax in one of the comfy lounges by a roaring fire, or take a long bath. This is a very special place indeed!
Arrival time on the Friday is from 4pm onwards. The first yoga session will be at 5pm. The weekend will finish on the Sunday after lunch at 1pm.
Things to do
The surrounding countryside offers an abundance of walks and the grounds a space to sit in nature and read a book or simply be. There will be massages on offer in the free time, or curl up on one of the big sofas to read or enjoy an afternoon nap.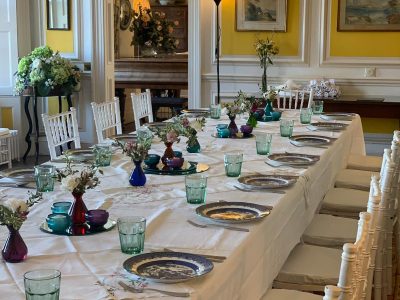 Accommodation & food
The luxurious rooms are spacious, light and offer an extremely comfortable heaven to relax and rest in. The fireside sofas are deep and comfy the views an expanse of nature and space.
Delicious organic food will be served throughout the retreat. All meals are vegetarian - delights to nourish body and soul.
Client Reviews
This was truly the best yoga retreat I have EVER been on. All in all simply couldn't have been a more amazing week.

Tanya
My Sister and I spent a wonderful weekend at Poundon House with Jaya...we were thrilled with our beautiful bedroom and lovely view. Jaya excelled herself with a thoughtfully planned and well-balanced (pardon the pun) yoga schedule with flowing yoga sessions in the morning and restorative stretches and yoga nidra in the afternoon. The group honoured her request for silence until breakfast despite being a chatty and interactive group at all other times...a fabulous relaxing weekend.

Lyn
It is the ideal holiday for anyone wanting a break that focuses on well-being. I would absolutely do it again. Yoga on a Shoestring are a fantastic company to deal with, everything ran like a dream. I cannot recommend my experience enough.

Sarah
The holiday was one of the best I've had in a long time. The location was stunning and I really felt at home for a week. Jaya is a warm and charismatic teacher and really helped the group to come together. Everything was perfect!

Martha
Thank you for the most wonderful weekend. We all had such a peaceful and rejuvenating time and certainly felt the benefits this week. Jaya - you totally met the high expectations I had...I felt I learnt so much to take with me and particularly loved the Tibetan sunset and chakra meditation. Mark - the food was fantastic, you really went the extra mile. I couldn't speak more highly of the two of you and would definitely recommend and hopefully do another retreat in the future!

Sammie
Beautiful location, inspiring and restorative teaching by Jaya accompanied by the most amazing, nurturing food from Mark. Lovely, lovely people. Utter bliss.

Sophie
We had a wonderful time at Poundon House last weekend. It was the first time my friends and I had been on a retreat - and based on our experience, it won't be the last. Jaya was friendly, knowledgeable, and put so much effort into making the practice accessible to people of all experience levels and abilities. I came away with a much better understanding of yoga and my body. And her partner Mark's food was just phenomenal - we were excited for every meal. They are a great team! We'll be looking out for more of their retreats in the future.

Becky
Luxurious early spring weekend retreat in Oxfordshire,
UK,
15 - 17 March 2019
Costs
Triple room sharing: £375 per person
Twin or double room sharing: £420 per person
Single occupancy room: £555
The cost includes your accommodation, daily meditation, all yoga classes and workshops. Delicious homemade organic vegetarian food. Massage treatments are available at an additional cost.
All rooms are spacious, stunning and unique.
Towels are included.
Travel Arrangements
Times: Friday 15 March 4pm - Sunday 17 March 2pm
Train:
Nearest train station is Bicester North
Taxis:
Taxi numbers for station transport:
Union Cars 01869 248248
Scenic Route 01296 738026
Apollo Cars 01869 323236
Driving:
Poundon House, Poundon, Nr Bicester, Oxon, OX2 79B