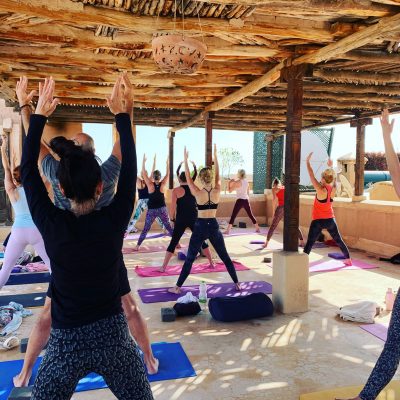 What is a yoga retreat?
January 10, 2023 6:45 pm
Nancy Campbell will be teaching her first YOAS retreat at Tigmi in Morocco at the end of March. Here she shares her thoughts and insights about yoga retreats and how to choose the one that feels right for you.
Looking for a yoga retreat but not quite sure which to pick or what to expect. You wouldn't be the first with that thought and I've been there myself.
The dictionary definition of "retreat" is "to move away from / to withdraw"
A yoga retreat provides the perfect opportunity to withdraw/step away from everyday life and deepen a practice, whether that be body, mind, spirit or a bit of everything, which focuses on the self.
In a world which runs at the speed of lightning and one where the mind rarely gets an opportunity to stop, a.yoga retreat sets the perfect scene for some personal time and freedom. You'll get space to think, settle your mind and notice the body and the heart.
Immersing yourself in the experience
While on retreat, with careful guidance of an instructor, you will be able to learn to let go of distractions as you immerse yourself in asana (movement), meditation (mind) and pranayama (breath) practices on a regular basis. This consistent daily connection, over a few days or more, will facilitate an opportunity for self-enquiry. On retreat self-enquiry comes about due to having a freer mind and often starts with tapping into what you are holding onto and no longer serves you, through this realisation an opportunity to let go opens up. By letting go you create the space within to receive and ignite new beginnings. New beginnings and connecting to your truth will enable you to stand more stable in your own personal power.
The success is in the journey not the end result, many students start a whole new journey on a retreat.
What to expect
Different teachers offer different tools to form their retreat story, some will work with the beautiful simplicity of just movement and breath, others interweave nuggets of philosophy, aspects of nutrition and other healing tools such as sound, fire and water. Whatever a retreat offers you will leave with new skills and awareness that can be developed long after the retreat has ended.
Words students have used to describe their feeling at the end of their retreat include: wisdom, clarity, peace, feeling lighter, wholeness, release, harmony, courage, strength, awakened.
Remember, as a student it is up to you to receive and transform with the guidance offered by your instructor.
Do I need to be a seasoned yoga?
You may be worried that yoga retreats are for seasoned yogi's only, please be assured that all levels are welcome. Some teachers, including myself, recommend a basic practice and knowledge which will enable you to be more present, getting the most out of the experience. Asana practice will generally be geared to a mid-level with modifications on offer.
How will it feel travelling alone?
Please never worry if you are travelling alone, it can be equally as beneficial as travelling with a companion. Before you have stepped through the door you will already have something fundamental in common with the others – an interest in yoga and the desire for a deeper connect. Beautiful heartfelt often life-long connections can be formed on yoga retreats so please never worry if you are travelling alone.
Things to consider when booking your retreat
The teacher: normally there is one main teacher who travels the story arc with you. Perhaps look at their website, their social media or message if you have never met, you will soon get a sense of your connection.
Location – are you interested in soaking in rich cultures from your surroundings, do you desire nature, space, the sky, the sun, stimulation, tranquillity. What setting makes your soul sing.
The focus of the retreat – are you looking for something more physical, gentle, rounded. Whatever you choose when you arrive, come with an open mind and heart and know that we remember that as a human we don't always have the ability to change what is happening but we do have the ability to change the way we receive.
If you would like to join Nancy on retreat you can see upcoming dates here.
Categorised in: Uncategorised
Share this: