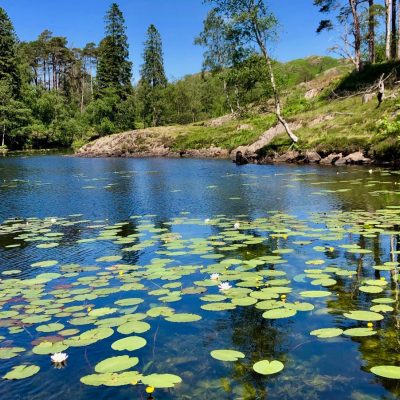 The natural beauty of the Lakes
April 4, 2022 4:05 pm
I've been teaching and co-creating retreats with YOAS for some 15 years and have had the privilege of leading groups in many gorgeous places around the world.
Last summer, after a break of a few years, and for no other reason than being busy teaching elsewhere, I was finally back in the heart of the stunning Lake District at Yewfield, a luxurious vegetarian B&B. Re-discovering this amazing venue and location.
You can't help but love it there and I am so looking forward to returning again for a fabulous 4 days of deepening yoga practice, pure fresh air, invigorating hikes in wide horizons, lake swims and delicious food. Many years of leading retreats has taught me that tasty, nourishing food is an essential ingredient to everyone's happiness, alongside profound yoga practice of course!
Late spring is such a gorgeous time of year in the English countryside, nature just vibrant with late spring/early summer blooms and with daylight stretching into the evenings, it means you can make the most of your days in what feels like the mini Alps of the UK!
Yewfield is a Victorian gothic mansion perched high up in the hills with fantastic views and set in over 80 acres of peaceful and private grounds, including a lovely rambling natural English garden. It's been awarded 5 stars and the helpful hosts give it a 'boutique hotel' feel. The owners have 2 vegetarian restaurants in nearby Ambleside on Lake Windermere, which explains why the food is so spot on. They also grow their own vegetables.
But the highlight for me is being right in Nature with a capital N! You can head off on foot straight from the front door, past meadows and woods for just 15 minutes and reach Tarn Hows (a tarn is a small mountain lake formed by a glacier) a beauty spot of the Lake District framed by the peaks beyond. Follow the lakeside path, taking in the lily pads and blossoms, you discover a woody glade and shingle mini-beach where you can pause to read your book or even take a wild dip. Last year, we swam every day! For a good hike to higher peaks and a birds eye view over Lake Windermere, just follow on up into the vast horizons. Nothing like it to give you some proper head space and combined with 2 daily yoga classes it is just the perfect re-set.
Teaching in the peace of Yewfield's light and airy yoga studio is a joy, with it's large windows overlooking the flower gardens and a wood burning stove for cosy afternoon restorative practices. Nothing better than a deeply nurturing Yoga Nidra to the comforting crackle of wood fire. Also a great place to gather for an evening of music, chanting mantra and bhajans – I'll be bringing my guitar again of course!
Back to that breakfast… I don't think I've taught in any other venue where you have such an array of breakfast choices from fresh juices, tea and coffee, home made granola or porridge with fruit, nuts and seeds to eggs, mushrooms and toast. A breakfast to really set you up for the day.
Then pick up your packed lunch and you have free time to roam. Hike for the day or just wander Yewfield's own nature trails, wildflower meadows and ponds, organically and sustainably managed to encourage wildlife. Equally you could find a quiet place to just chill in the lovely grounds with a good book or relax on a comfy sofa.
Many of the group last year stayed on a few days after the retreat to explore the area further, making it a perfect low carbon footprint break.
So all in all, Yewfield and the Lake District are definitely top of my UK retreat hit list.
Om Shanti
Belle
You can see Belle's upcoming retreats here
Categorised in: Adventures, Asana, Health & wellness, Holidays & retreats, Meditation, Pranayama, Relaxation, Well-being, Yoga
Share this: